EYESPACE LAUNCHES RANGE ROVER OMNI-FIT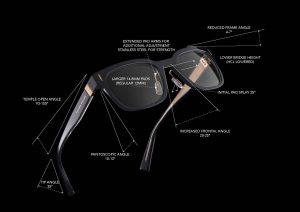 Engineered for the perfect fit
Committing to our core values of inclusivity and diversity, while continuing to push the boundaries of sustainable frame innovation, we introduce Range Rover Omni-Fit model RR3034A.
Crafted with precision from premium Mazzucchelli M49® bio-acetate and designed to deliver both style and comfort, this frame redefines what it means to experience an entirely personalised fit with no compromise on design. Contributing to a more personalised fit, we have widened the frontal angle of these glasses to accommodate a wider variety of nose shapes.
Wearers will notice the difference in how snugly they fit and how comfortable they feel.
The frame is designed so that wearers can fine-tune the fit to suit their preferences perfectly, with thoughtfully constructed longer pad arms; providing increased adjustability, while the larger 14.8mm nose pads are designed to add to the overall feeling of luxury, ensuring no uncomfortable pressure points.
Boasting a stunning 3D geometric texture, exclusively designed by Eyespace to reflect the brand's iconic vehicle aesthetics, RR3034A showcases Range Rover's signature attention to detail in every way. The visible core wire is not just a functional element but also adds a touch of industrial elegance to the frame; a subtle detail that speaks volumes about each wearers discerning taste.
This frame combines cutting-edge design, superior comfort, and unmatched adjustability to create a luxurious accessory that complements individual style effortlessly.
The Range Rover logo, synonymous with luxury and sophistication, is prominently displayed on each pair of eyewear, reinforcing the brand's identity and association with premium quality. Range Rover Eyewear becomes not just an accessory but a symbol of style and refinement.